(And it brings with it a whole range of women only events and rides in Wales)
First, some reflection … in the last week, we revisited an article from 2014 about women taking up mountain biking in which Si Paton (British Downhill Series Director) was quoted as saying:
"The continued success of British female riders and the higher profile enjoyed by riders like Rachel Atherton will hopefully see more women inspired to get involved at all levels, from the grass roots right through to elite level."
That 'prediction' certainly seems to be coming true; women are joining the sport in large numbers and that's as a result, in no small part, of the continuing success (and positive media coverage) of Wales based stars such as Manon Carpenter and Rachel Atherton.
But it's not all about an elite level; everyone starts somewhere and in the next few weeks there are plenty of opportunities specifically for women to get out there in a friendly, confidence building environment here in Wales.
Over in BikePark Wales (Gethin Woods, Merthyr Tydfil) next weekend (9th and 10th) there's a great chance to access everything from coaching opportunities to new kit and even bike maintenance advice at their Women's Weekend. A day entry pass is £10 and that includes a free single ride on the uplift (single ride card), access to all the workshops and rides and "most importantly free tea and cake"!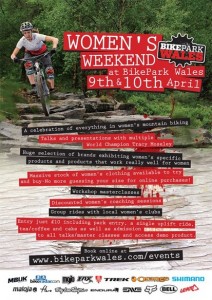 Also, on Wednesday 13th, there's a special uplift day for women riders – more information can be found on the BikePark Wales website.
Trail Takeover regularly arrange #trailtakeover events for women (usually based around Afan Forest Park and BikePark Wales) so make sure that you follow them on their social channels to stay up to date on opportunities to ride in a great, friendly group of like-minded ladies. More information can be found here.
Forest Free Ride in the Cambrian Mountains (Powys) runs courses that include those aimed at 'girls only' beginner level and specifically for those that want to gain more confidence trail riding. At £135 for 2 full days of coaching the next course weekend is April 23/24. For more information head here.
Also based in mid Wales, but organising rides and coaching sessions throughout Wales, Daisy Chain Bike Events has a regular schedule throughout the year (next one coming up in New Radnor on the 19th April). Full details can be found on their website.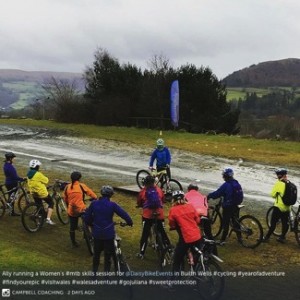 Further north, Evolution Adventure (based out of Wrexham) offer 'girls only' courses that range from beginner level through intermediate to "trail master" advanced. Head to their website for more information.
By the way, while writing we took 10 minutes out to read this article on American Jacqui Phelan (dubbed the Godmother of Mountain Biking and founder of the wonderfully named WOMBATS, the Women's Mountain Bike And Tea Society!) from the archives on the US based Bicycle Story blog – you might enjoy it too.
Follow our Twitter, Instagram and Facebook feeds for new dates and events as they come up and also to give us a heads up if there are any that you know about and would like us to share.