Progressive dirt-jumps from novice to pro level: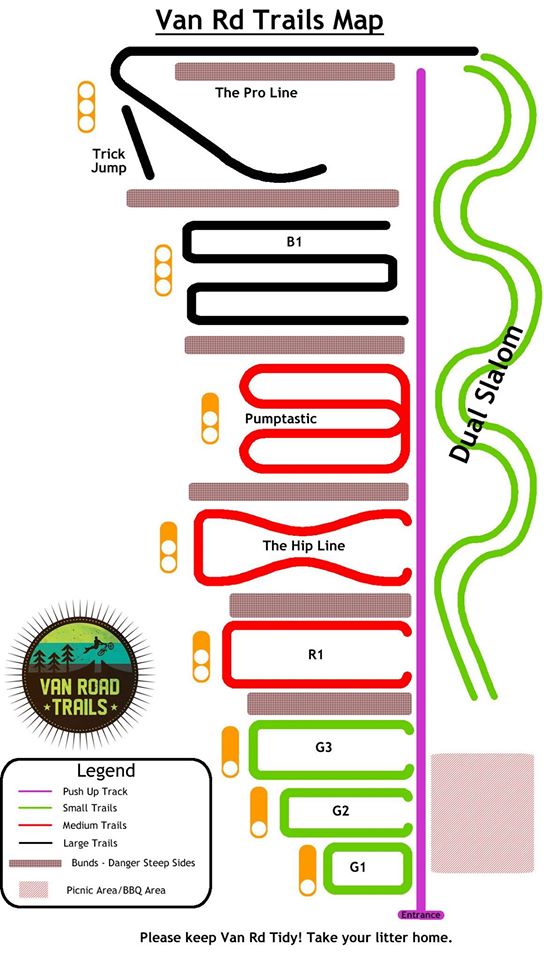 TRACK 1 – Perfect for young children, however inexperienced. A gentle roll through the trees giving a sense of adventure whilst providing an introduction to rollers and berms.
TRACK 2 – A 2-straight track that's great for beginners and intermediates, consisting of low, short table tops.
TRACK 3 – A 2-straight track with larger features but still roll-able throughout.
TRACK 4 – This 2-straight track, whilst still roll-able, is where the jumps start to get bigger and faster.
TRACK 5 – The 'Hip line' comprises 2 straights of small gaps and hipped jumps.
TRACK 6 – The Pump track is our 4-straight tarmac track for all weathers. Plenty to do here for all riders and abilities. Just use your imagination! (Due open Summer 2022).
TRACK 7 – The 'Semi-pro' line is 2 straights but with two options for the 2nd straight. These gapped jumps are not small!
TRACK 8 – The 'Pro-line' is for the most skilled dirt and trick jumpers. Big gaps on this 2-straight track with a choice of 2nd straight lines to finish.
TRACK 9 – The Dual Slalom track. A fast-rolling, 1 minute, 2-laned track awash with rollers, jumps, berms and flat turns. Roll-able by the novice and race-able for everyone else. Great fun for everyone.
THE TRICK JUMP………it's a trick jump!